The Outland Armour crew participated in the steampunk fashion show on Friday, one of many wonderful events presented by the brand new Alternate History Track at Dragon*Con. We modeled our newly created Steampunk Star Wars designs, and they seemed to be a pretty big hit with the crowd. It was a lot of fun! All of the models and designers in the fashion show did a great job and there were some really beautiful designs from everyone involved. Excellent stuff.
Earlier on Friday, Lindsay and I were representatives for Outland Armour on the Steampunk Maker's Panel, and then Sunday the whole crew presented our Steampunk Costuming with Outland Armour panel. Both panels went well, but we especially had a great time hanging out with the crowd and answering questions at our Sunday panel. Thanks again to everyone who came out to see us, and our apologies to anyone who didn't get in. Hopefully the con will see fit to give the track a bigger room next year!
So all in all, a fantastic Dragon*Con. We took tons of photos, all of which I will be posting to our gallery on Zenphoto, as well as to my journal here as soon as I get them back from our photographers.
Our Star Wars group included the following characters:
Queen Amidala - Megan
Padme Amidala - Christa
Luke Skywalker - Craig
Mara Jade - Lindsay H
Princess Leia Organa "A New Hope" - Laura
Princess Leia "Slave Leia" - Meredith
Han Solo - Joe
Chewbacca - Ryan
Darth Vader - Mike
Boba Fett - Danny
Aurra Sing - Lindsey L
I did already manage to find a few good snapshots around the net however! So without further ado, here are some teaser pics of our new Steampunk Star Wars costumes!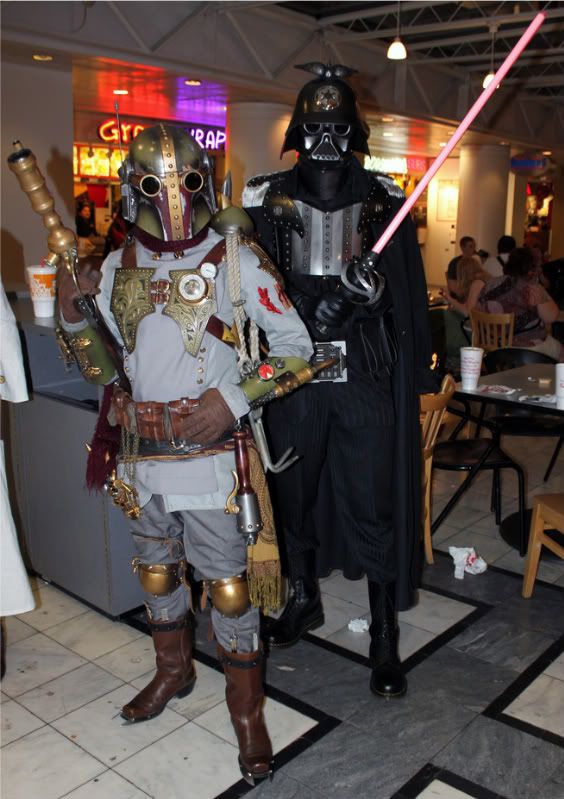 Boba Fett and Vader
Luke and Mara Jade being sickeningly cute together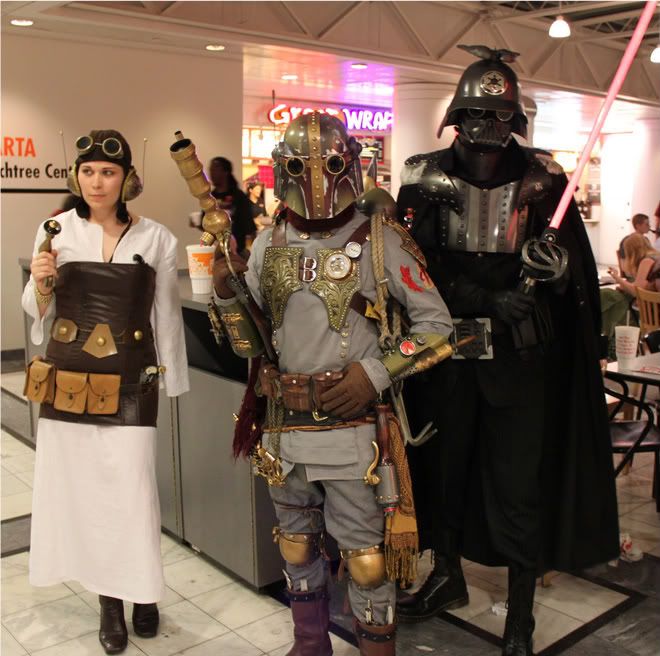 Leia, Fett, and Vader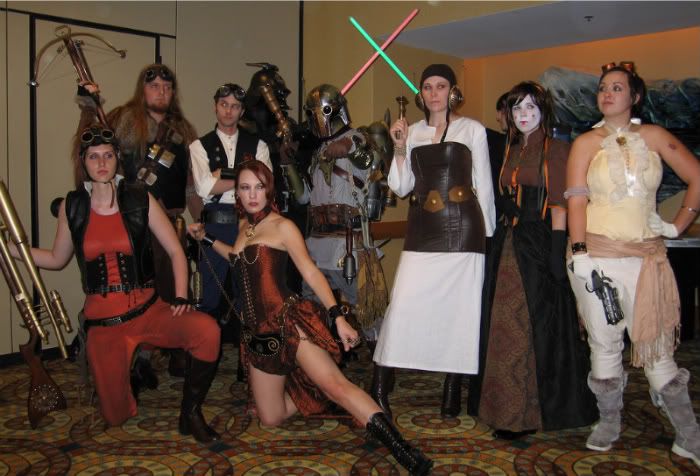 The group right after walking in the fashion show
Sets of the Boba Fett and Darth Vader armor are available for purchase on commission, as are steampunk light sabers and blasters. Email me at Laura@OutlandArmour.com if you're interested.
Anime Weekend Atlanta is only 10 days away, so we have to take one deep breath to recover from Dragon, and then it's back into the workshop again!
Thanks again to everyone who came to our panel! Much love!
~Laura
Events Coordinator and Webmistress for
Outland Armour
Well, another Dragon*Con has come and gone! We had a blast this weekend costuming, seeing friends, and getting our party on. ^_Q
Current Mood:

accomplished