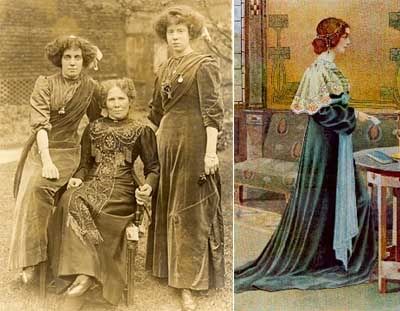 I'm working on a Byzantine-style head-dress like the one worn in Mucha's "
The Blonde
". However I'm afraid my sewing skills aren't up to creating Artistic Dress like the three ladies in sepia, or Jane Morris' famous blue gown. I wish I could create something that beautiful, but I'm afraid a simple kirtle is more suitable to my skill at this point. Here are some more examples, mixing in the medieval gowns of the pre-Raphaelite paintings with Reform Dress:
So what do you think - can pre-Raphaelite dress be steampunk or is it too RenFaire to be steampunk?
I'm wondering if there's any way to wear a pre-Raphaelite dress to a steampunk event without looking as if I'm going to a Renaissance Faire. As far as I can tell, these medieval style gowns were not often worn by Victorian women, although some opted for Rational Dress (or Reform/Artistic/Aesthetic Dress).