I believe most of you are familiar with the fine (and often intertwined) line between steampunk and period Victorian. However, I thought it would be fun to examine a few pictures that help demonstrate just how narrow this distinction can be. Given that the key distinction between steampunk and the historical steam age is merely the level of technology achieved, things on the fashion front can become very confused (even in our modern age of portable technology, not everyone carries around modern gadgets; when considering technology that is distinctly greater in bulk, such as steam engines or analogue computers, this problem becomes even more pronounced).
So, with no further ado, let's move on to everyone's favorite part: the pretty pictures.
Regards, etc.,
-
G. D. Falksen
To begin with, we have Kit Stølen, known to many of you as
anachronaut
. Kit was one of the very first icons of steampunk fashion (he may well have been "the first," but that is a discussion for another day), and he inspired many early followers of the steampunk trend. The smashing picture above is by Nadya Lev.
The above is taken from the French film Vidocq, a very impressive piece that I highly recommend (although the English dub on the DVD leaves something to be desired). Note the two figures in the background, who are very clearly 19th century MIBs.
Wild Wild West, with an image from the original TV show and the film remake placed side by side. Clearly, the clothes worn in each case are indistinguishable from period Victorian; it is the advanced technology and spy-fi themes in each that marks the distinction.
The cover of The League of Extraordinary Gentlemen, one of the most stunning displays of steampunk art and fiction (complete with steam powered cranes building a cross-Channel bridge). Again, while the technology in League is indisputably steampunk, this has little effect on the actual clothing of the characters (and why should it?); instead, the styles of the age are preserved alongside the wonders of the future.
A scene from Around the World in 80 Days, which similarly displays period clothing in a steampunk story.
And as a special note, one might consider The Prestige. Though a period film (with supernatural components), certain explorations into technology have led it to be examined as a "steampunk film" ....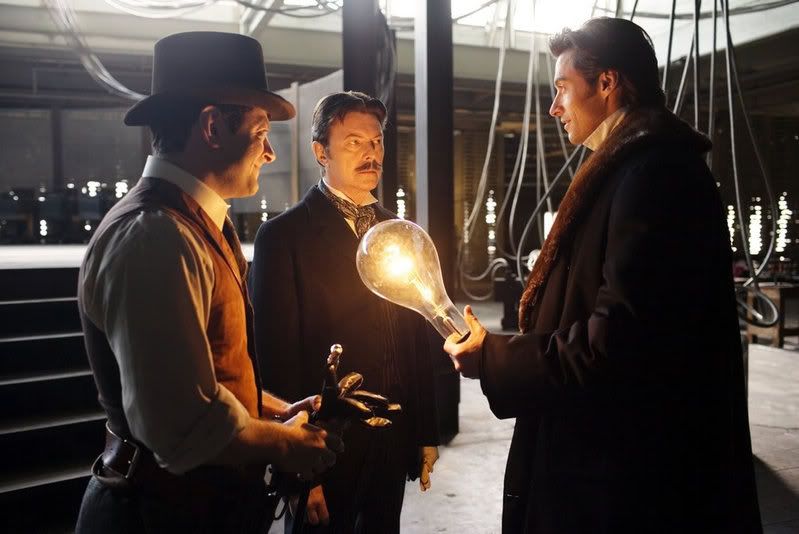 ... which, given that it includes the character of Nikola Tesla (the patron saint of mad scientists), is not an unreasonable assertion.
This does beg the question, how does one make a steampunk outfit without running the risk of being "only Victorian." Well, as one can clearly see, a person could do far worse than dressing period to be on the safe side. The addition of technological goodies or the reimagining of 20th century archetypes through a Victorian lens (whether MIB, secret agent, computer hacker, or pulp mad scientist, etc.) are all ways of clearly distinguishing the outfit from the "purely Victorian," but this distinction is generally unnecessary.
To summarize, saying that a steampunk outfit is "too Victorian" is much like saying tea has too much water in it.
On a related note, it is important to also remember that the use of the term "punk" in steampunk is a reference to cyberpunk, not to punk rock or the subculture that developed along with it. It is a silly and confusing point, but this is what comes of coining terms as tongue-in-cheek jokes without considering the possible misinterpretations that may result.
EDIT: As several of you have correctly noted, my intent here is to defend those individuals who have created (and continue to create) wonderfully steampunk outfits that, due to their lack or subtle use of gadgetry are mistakenly criticized as being "too Victorian." As you can see from the images above, most of the "too Victorian" outfits are in good company with the clothes featured in steampunk stories and movies. Does this mean that all steampunk outfits must be "period Victorian"? Certainly not, and I have never suggested such a thing (although given that steampunk is inspired by the technology of the steam age, anyone who is ever in doubt about what to do for a steampunk outfit should feel confident in using period references as their starting point).
If you are not in the habit of criticizing steampunk outfits as being "too Victorian," then please regard this post as nothing more than a collection of very attractive steampunk outfits. However, if you do, from time to time, complain about the strong presence of Victorian imagery in steampunk fashion, or if you are somewhat hostile toward steampunk outfits that have a very strong period aspect to them, please read this post and reflect upon the very strong place of period Victorian (and Edwardian, of course) in the steampunk genre.
Ladies and gentlemen,